Our History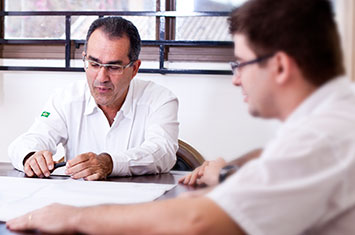 SOLUTION was founded in 1987 by Mr. Decio de Almeida Freitas, mechanical engineer graduated in 1973 by UFMG (Universidade Federal de Minas Gerais), with post-graduation in Management and Industrial Technology in the Sugar and Ethanol Sector by ESALQ/USP in 2003/2005.

Since the beginning of his career, Mr. Freitas had dedicated himself to the new technologies in sugar cane preparation and extraction, having accumulated a long experience in sugar and ethanol plants in Brazil and abroad.

Among the technologies implanted in Brazil, he was responsible in the 1970's for the Farrel's (USA) mill designs at Zanini, where he also participated in the introduction of the extraction technology by diffusers, imported from South Africa to Brazil.

From 1991, SOLUTION has also started to serve other countries besides Brazil, and since then has a marked and constant presence in design and technical consulting services to sugar factories, distilleries and power cogenerations in 25 countries.